2019 Toyota Tacoma and RAV4 Just Received Record Sales Results and Here's Why
Blog
May 17th, 2019
2019 Toyota Tacoma and RAV4 Just Received Record Sales Results and Here's Why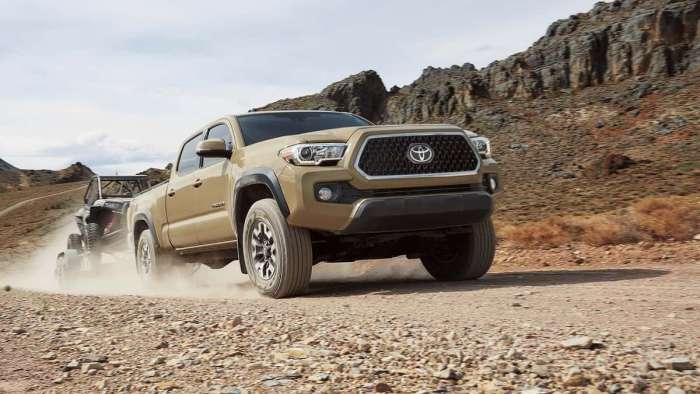 If you are looking to buy a new car, one of your most important factors could be how long it will last, and what is the cost of ownership over that time? Buyers generally know Toyota has earned an excellent reputation for long-term quality and reliability, and it is for this reason Toyota is often their top choice. But how well do they sell?
Toyota Motor North America recently came out with April 2019 sales figures. Results showed a few models performed very well, with one big surprise.
RAV4 is meaner and better than ever
The 2018 Toyota RAV4 already sold better than any other Toyota model in the United States last year, even better than the immensely popular Camry. When it was redesigned for the 2019 model, Toyota hoped for even better success. In April it did just that.
Compared to April 2018, RAV4 enjoyed a 10.1% increase in sales. This was its best-ever April for sales. A big factor is the enormous nationwide demand for its RAV4 Hybrid models, where car buyers from coast to coast are finding it challenging to find their perfect vehicle. I hear from frustrated shoppers every day who are being told their order wait time will be several months.
Tacoma…need I say more?
When you have dominated your market segment year after year, you come to expect strong sales year in and year out. Toyota Tacoma carries with it a legacy of lasting practically forever. The running joke within truck circles it that you just cannot kill a Tacoma. My friend Mike Neal and his truck are prime examples. He bought his Tacoma 4-cyclinder Access Cab in 2008 and he has logged over 1.2 million miles. Like I said, you just cannot kill a Tacoma.
Toyota Tacoma April sales were up 8.3% compared to last April. Can you say best-ever April? But that's not all folks – this is the 18th straight month Tacoma has seen an increase in sales. In the face of increased competition, this is an incredible feat and shows the strength of Tacoma and its proven staying power
To hatch…or not to hatch…that is the question
Let's say you know you want a Corolla, but do you choose the world's best-selling sedan of all time, the Corolla? Or, do you go with the more recently introduced 2019 Toyota Corolla Hatchback? This is a tough choice and depends on many criteria unique to each car buyer. The 2019 Corolla Hatchback is a fun-to-drive car that gets solid gas mileage (up to 42mpg highway with the SE automatic baby!).
In comparison to last April, 2019 Corolla Hatchback sales were up 14.3%. This was also a best-ever April.
Also of note, The 2019 Toyota Yaris enjoyed a 21.6% increase over last April. Yaris is an affordable option in the subcompact market and has many practical standard features, making it a solid value for buyers in this segment.
So tell us already – what model had biggest increase?
Although it is not as commonly known as other Toyota models, The Toyota Mirai had the largest increase in sales compared to last year. Although sales are small when thinking of Toyota's traditional lineup of vehicles, April sales increased 165.8% versus last April. To quote Adam Sandler, "Not too shabby."
The Mirai is Toyota's hydrogen fuel cell vehicle that is sold primarily in California. Drivers of the Mirai enjoy 153 hybrid system net power and a combined 67MPGe.
Source: https://www.torquenews.com/6626/toyota-rav4-tacoma-enjoy-record-april-2019-sales