New Toyota Supra: Faster and more Furious
Blog
Jan 18th, 2019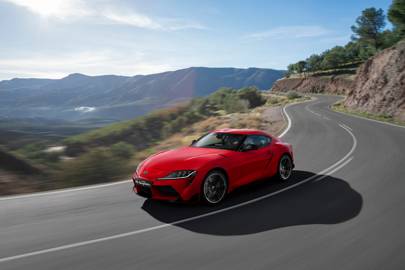 Car enthusiasts don't always make the best car bosses, but hats off to Akio Toyoda. He's the scion of the family that started the colossal behemoth that is Toyota and he eats, sleeps and breathes the damn things. Clearly some Toyotas are marginally less interesting than your average dishwasher, because plenty of people can barely handle dishwasher levels of excitement in their car. But Toyoda isn't one of them, which is why we're looking at an all-new Toyota Supra. Say hello to one of 2019's break-out stars.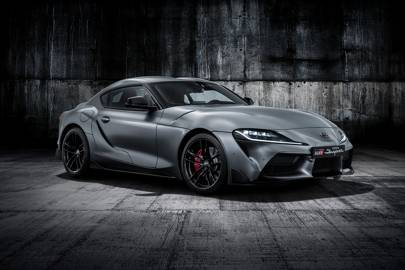 It's also been a long time coming, trailed relentlessly for what seems like aeons and in development for a ludicrous seven years. Not least because it's been co developed with BMW, whose excellent new Z4 shares much of the hardware and important oily bits, only with the sporting ante upped in traditional Akio Toyoda style. Plus it's a coupé, as opposed to the Z4's softer roadster setup. In fact, Toyota claims that the new Supra is as stiff as the magnificent and vastly more expensive carbon fibre-bodied Lexus LFA supercar. That really is progress.
Says chief engineer Tetsuya Tada: "The normal cycle for car development is around three years. But with this project we wanted to make absolutely sure it was right. Akio has always said that as a company he would like to have 'three brothers', with the GT86 in the middle and Supra as the big brother. So we've tried to aim for the Supra to offer an overwhelming superiority in all attributes.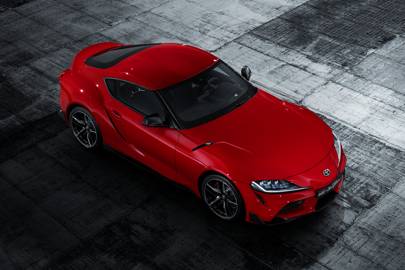 This is a short, punchy and frankly rather pugnacious looking car, not especially pretty as per the contemporary sports car design idiom, but extremely striking and armed with a set of eye-popping graphics. There's a bunch of stuff going on here that's only made possible by advancements in fabrication techniques: the wings flow aggressively into a front end that demands your eye darts this way and that. The rear end is even better, a phenomenally busy confluence of curves, fat wheel arches and multilayered bodywork and aerodynamic devices. Toyota's mainstream cars have been flirting with aesthetic disaster for a while now, in an effort to differentiate them. The Supra is guilty of similar wilfulness, but in this context it really works. Less contentiously, the power unit sits behind the front axle, making it effectively front mid-engined, which optimises the centre of gravity and weight distribution.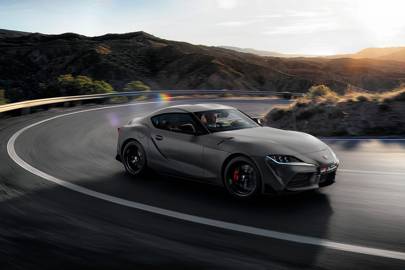 It also throws back to the last Supra – nerds know it as the A80 – the one that arrived in 1993 and enjoyed a Hollywood afterlife as one of the stars of the original Fast And The Furious movie. That car had a remarkably similar specification: 3.0-litre turbocharged V6, rear drive, limited slip differential, with a power output up (only slightly) now to 340bhp. You could conclude that Toyota has been asleep for the past 25 years or, more charitably, that this is a) consistent and b) much more useful in the real world in a car as handily sized as the new Supra than something with 600bhp and a 200mph top speed. (Over to Vin Diesel and his real-life cohorts to wreak that havoc, a process Toyota is apparently actively encouraging such is the original car's cult status.)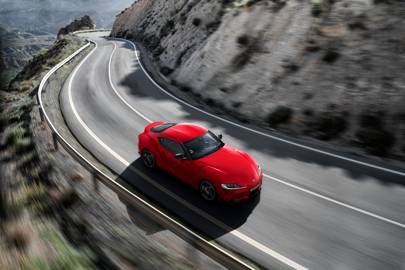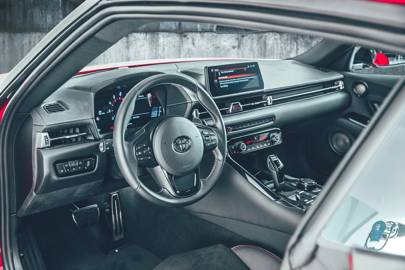 Inside, much of the switchgear and setup is the same as the Z4's, and that's fine because the BMW is a very lovely place to be. There are enough changes to give the Toyota its own character, though, including a chunkier steering wheel and proper instruments rather than BMW's slightly odd TFT screen.
The Supra also adds padding for your knees, protection in expectation of substantial cornering loads. One of the quirkier facets to a car that 2019 absolutely deserves – and needs.