Mazda and Toyota join forces on Linux-based connected car platform
Blog
Aug 30th, 2017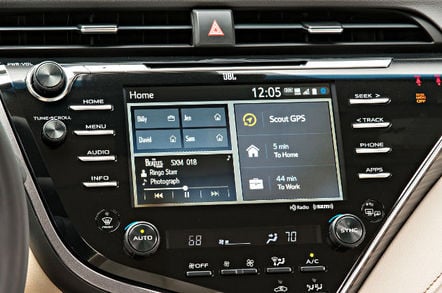 Mazda and Toyota are working together on a Linux-based connected car navigation and entertainment system, according to reports.
Toyota's Entune in-car infotainment platform is a one-stop shop for all your in-car functions: hands-free phonecalls over Bluetooth, music streaming, satnav and so on. You can even bellow at Apple's Siri after button-mashing your steering wheel while doing the supermarket run, if that's the sort of thing that tickles your fancy.
Built in Linux, Entune will receive the benefit of input from fellow Japanese car firm Mazda, according to Japanese business newspaper The Nikkei, which reckons the joint effort is at least partly due to a shortage of vehicle-focused software devs in the Land of the Rising Sun.
Entune essentially aims to put smartphone-style functionality into the central dashboard touchscreen, meaning it is not written to interact with key car systems such as acceleration, braking or steering.
Auto Trader has an overview of it here, noting that access to core apps is free for the first three years. Those core apps include Bing, music app Pandora, radio station streaming app iHeartRadio, a film tickets app, restaurant booking app OpenTable and an in-house Toyota app featuring various news and weather feeds.
As CNET notes, "the system still does not support Apple Carplay or Android Auto". This may be because Entune competes against Android Auto and Apple Carplay, which largely do the same things. The two rival systems each have a number of car-makers from around the world already signed up.
Mazda and Toyota will in future each maintain their own separate Entune feature and app sets running on the same common platform. Its first appearance in the West will be in Toyota's 2018 Camry for the US market. ®
Source: https://www.theregister.co.uk/2017/08/29/mazda_toyota_linux_entune_car_infotainment/