2018 Toyota Camry Review: First Drive
Blog
Jun 21st, 2017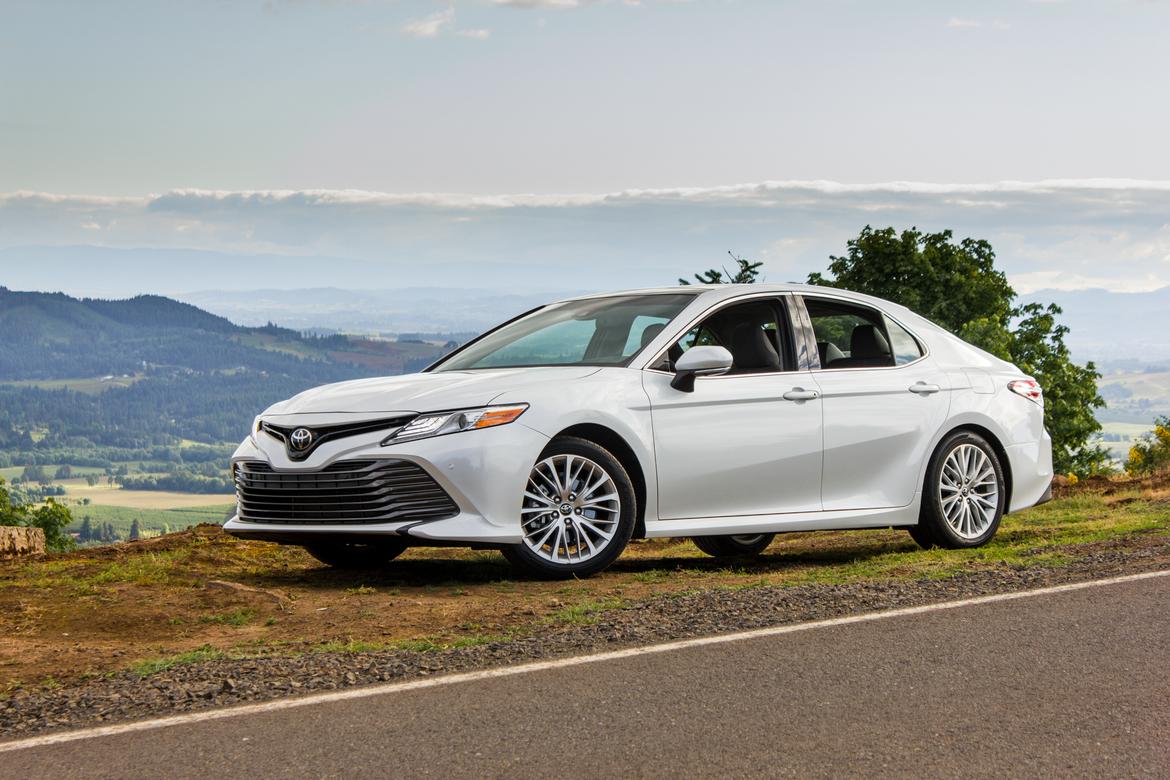 CARS.COM — The Toyota Camry gains a much-needed injection of attitude for 2018 in how it looks, and perhaps more surprising, how it drives. Truthfully, it probably hasn't needed anything considering the Camry has been the best-selling car in the U.S., period, for 15 years, and Toyota hadn't done much with its winning formula. The popular sedan has grown stale, however, lagging the quickly evolving competition.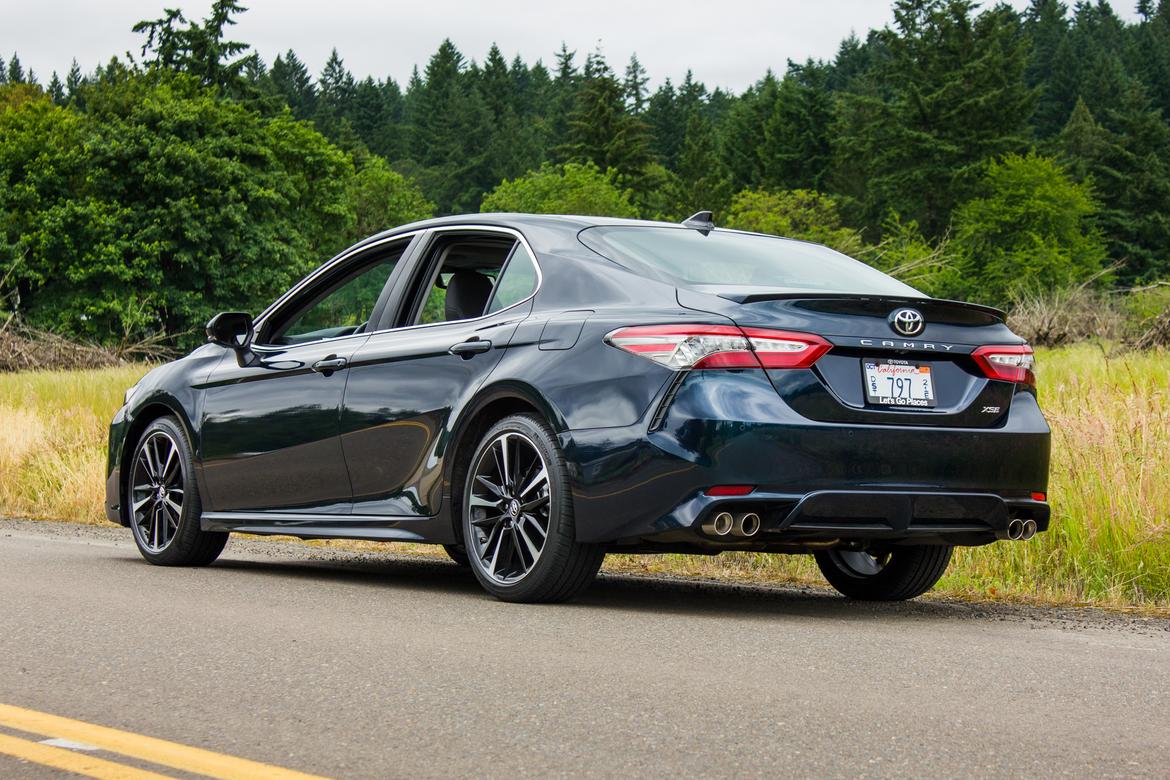 2018 Toyota Camry
Cars.com photo by Joe Bruzek
Toyota radically redesigned the Camry with aggressive styling and retooled the mechanical bits from the ground up. I drove almost every version of the new Camry at a media preview in Oregon (per our ethics policy, Cars.com pays for its airfare and lodging). The 2018 Camry isn't an evolution of the outgoing car, but rather a completely different and much-improved sedan that drives like no Camry before.
My major gripes with the old Camry were that it didn't drive that well and its advanced safety features weren't available on popular trim levels; lesser complaints included a cheap and noisy interior. All of the above have been addressed for 2018.
I won't bore you with details about the 2018's increased torsional rigidity, a new double wishbone rear suspension and the new platform that underpins the car, but the strength and layout of the Camry's platform are a dramatic departure and key to why ride and handling have greatly improved for 2018.
The driving characteristics of this new car's performance-minded SE and XSE models are a big departure from the previous SE and XSE, which crashed over bumps and drove sloppily. That wouldn't cut it against competitors with highly refined ride qualities like the Chevrolet Malibu, Ford Fusion and Mazda6. For 2018, a Camry SE and XSE are genuinely enjoyable driving vehicles that are, dare I say, fun? Even the LE and XLE trim levels drive differently to a degree that was immediately noticeable as soon as I hit the road.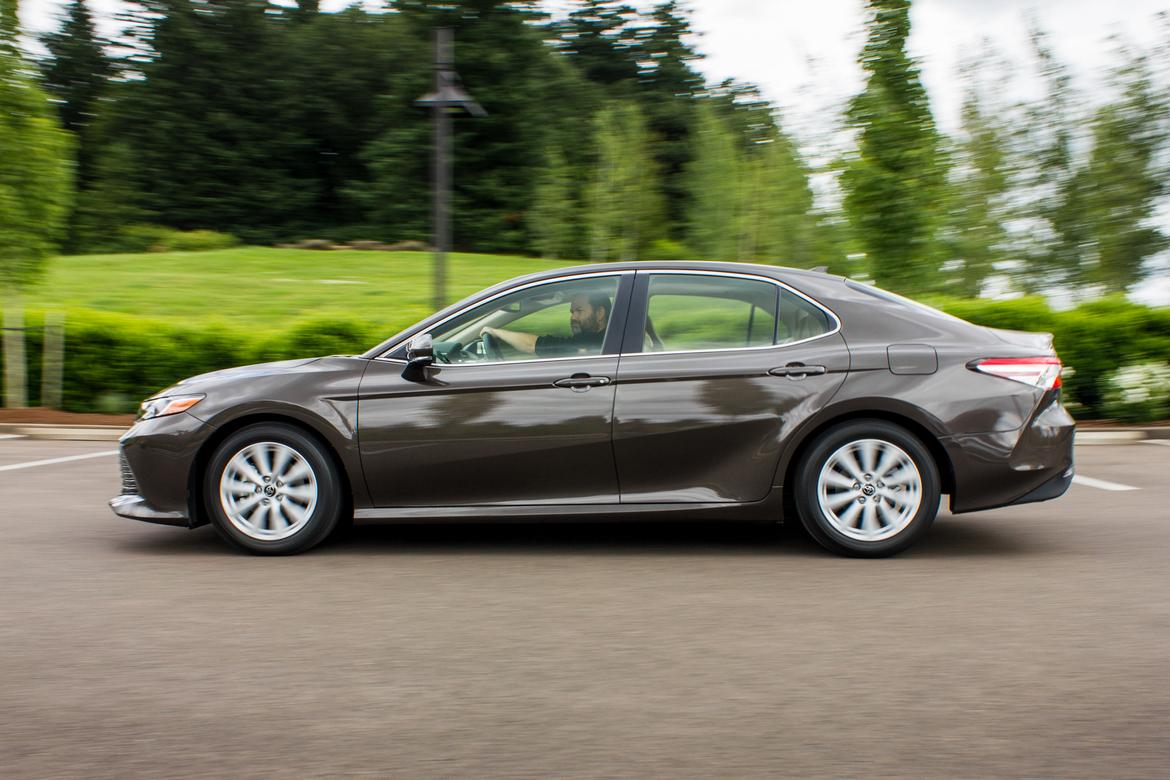 I'll start with the fun stuff. (It's still weird typing "fun" in a Camry review.) The SE and XSE trims have a sport-tuned suspension with shock absorbers and springs designed for more responsiveness. These cars have less body roll, they dart through corners quicker and they're eager to dig in until the economy-minded Michelin tires start to bark — still, it takes a lot more than a casual Sunday drive to get there. The steering wheel has a pleasant weight resulting in quick action from the tightly tuned chassis. Here's the best part: Everyday ride quality remains perfectly livable on the SE and XSE, almost as docile as the normal suspension but with more tenacity and control once you pick up the speed. These characteristics were completely foreign to the outgoing Camry.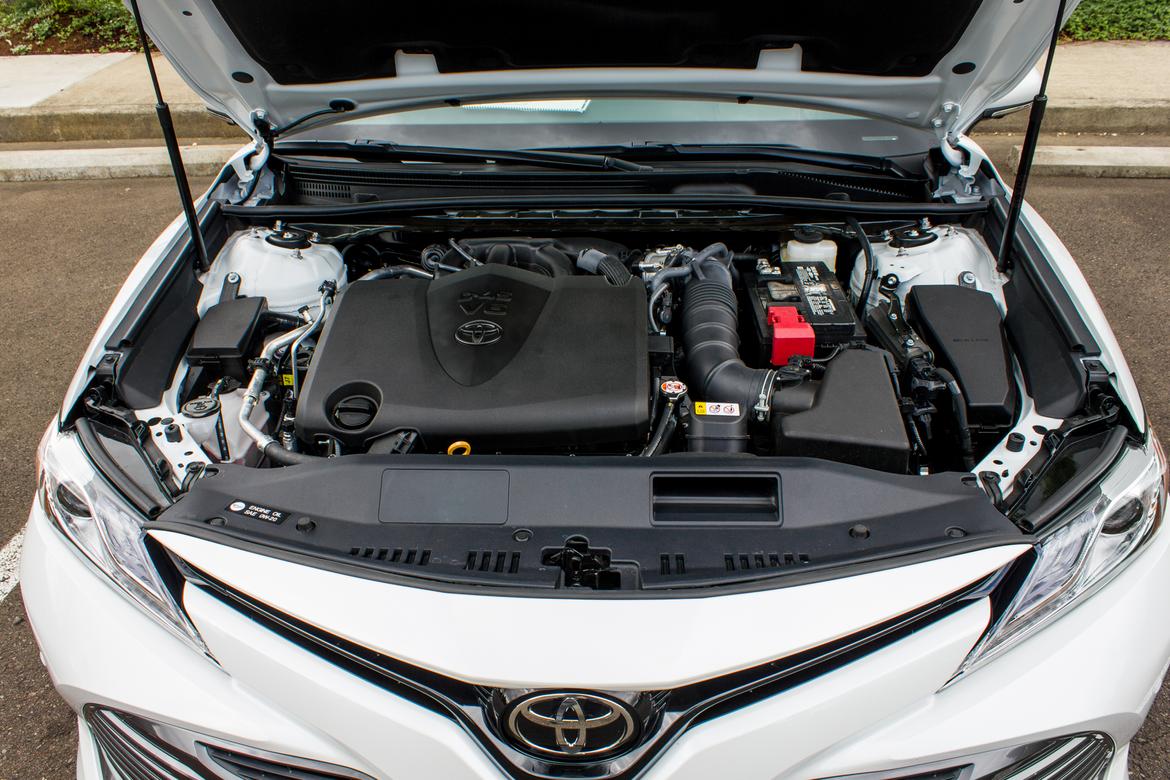 My favorite Camry to drive is an XSE with the optional 301-horsepower V-6 — of course, also the most expensive at $35,835 with the destination charge. The reworked V-6 is responsive, crisp and a refreshing reminder of what a good non-turbocharged engine feels like — minimal lag unlike some of the optional turbocharged four-cylinders in competing models. The new eight-speed automatic is mostly good, but it didn't always kick down enough gears for passing power in Sport mode, which feels conservatively tuned even in the aggressive-looking XSE.
The V-6's fuel economy is impressive, EPA rated at 22/32/26 mpg city/highway/combined. It's more powerful and just as fuel efficient as the up-level turbocharged four-cylinders in the Hyundai Sonata, Fusion and Malibu. It's a shame Toyota estimates only 5 percent will choose the V-6. If you've ever wondered what the spirited Mazda6 would drive like with a more powerful engine, the Camry XSE with the V-6 is about as close as you can get.
Most 2018 Camrys will come with completely new base four-cylinder engines the marketing folk call Dynamic Force, which, coincidentally, could also be the name of Sylvester Stallone's next ensemble movie. The 2.5-liter four-cylinder makes 203 hp in L, LE, XLE and SE trims, and 206 hp in the XSE trim; as you'd expect with a 3-hp split, I couldn't tell the difference between the engines. Both four-and-six-cylinder engines pair with the eight-speed automatic transmission, and with the four-cylinder, it's a punchy combo for not having a turbocharger like competitors. The four-cylinder delivers both performance and economy with a best 41-mpg highway rating, but the engine sounds grainy and is loud as you wring it past 4,000 rpm. Revving that high is mostly unnecessary with competitors' turbocharged engines, or at least less frequent, with their broad power and torque range. Base L models are rated at 29/41/34 mpg, while the LE, SE, XLE and XSE are 28/39/32 mpg — both at least 2 mpg better in combined ratings than a four-cylinder Honda Accord, Mazda6, Fusion and Sonata.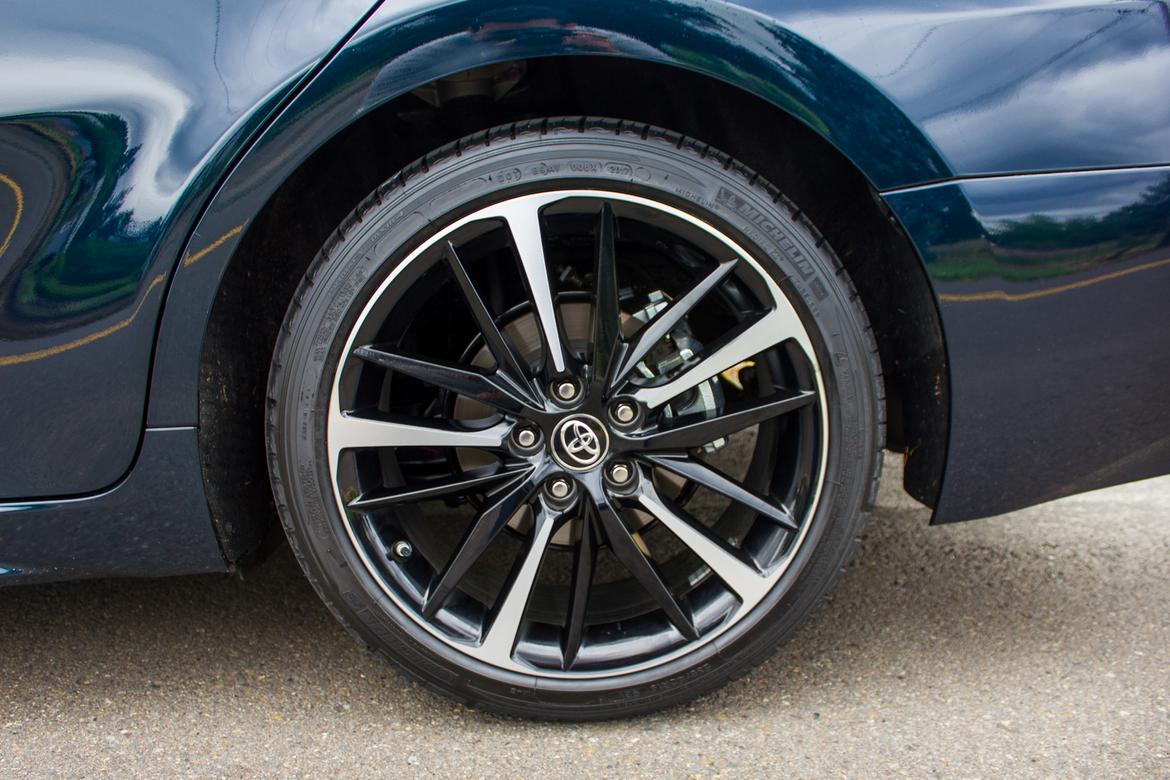 All other 2018 trims, including the LE and XLE, also benefit from the new chassis even without the sport-tuned pieces, and they have a tight but not overly stiff ride with significantly improved road isolation. The LE is the most comfortable, having the smallest wheels and tallest tire sidewalls that soak up bumps with aplomb; XLE models with larger wheels and shorter-sidewall tires have a slightly busier ride. In any version, the Camry rides over rough roads with a solid, unified motion rather than the old car's way of hitting bumps as if each wheel was seemingly flailing uncontrollably under the car. Wind and road noise are also improved at highway speeds, though I heard a constant whisper near the top of the driver's side window at 65 mph in multiple cars; I couldn't tell if it was the wind direction that day or inherent wind noise.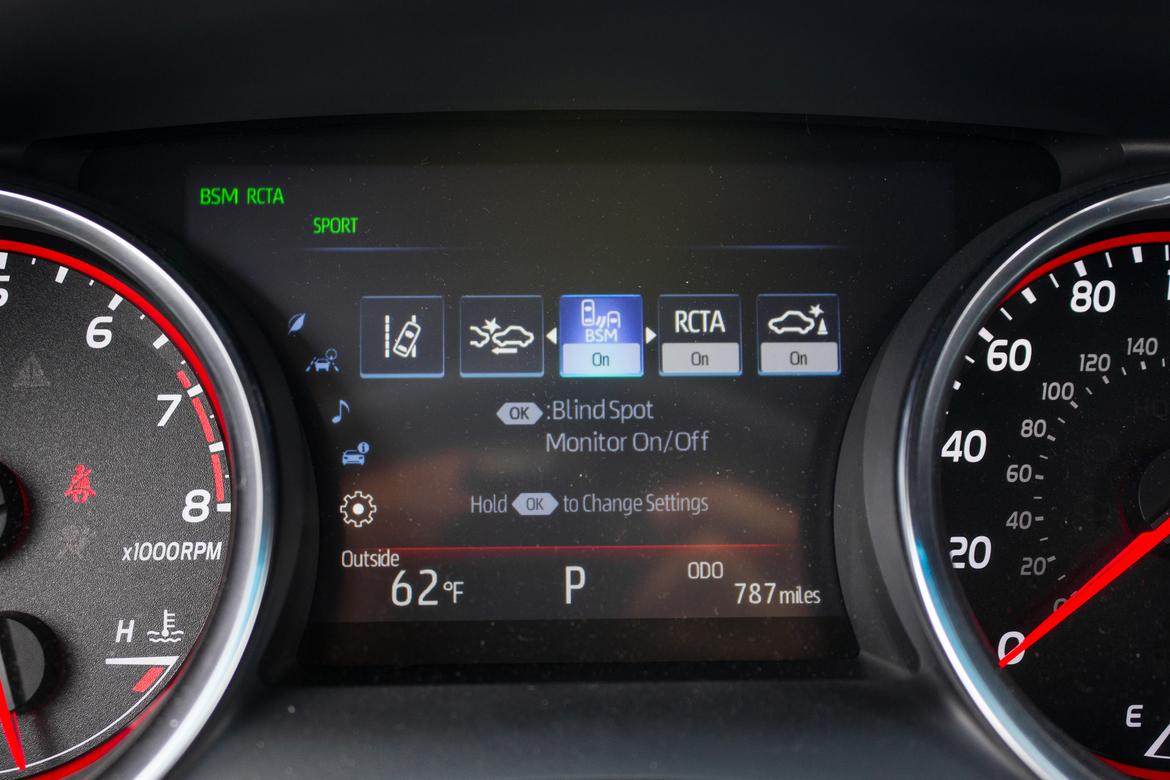 That's a lot of driving talk for a model not considered a driver's car, the performance of which most people clearly don't care about considering how many of the poor-driving versions have sold before. A lot more has been updated, though. Most notable is the standard pre-collision system with automatic emergency braking and pedestrian detection, lane keep assist and adaptive cruise control. That's right: standard on all trim levels including the least expensive L at $24,380. Lower trim levels have a high-speed-only adaptive cruise that shuts off as the car slows below 25 mph while following traffic, while higher-end trims have a full-speed adaptive cruise control that can automatically slow to a stop if traffic dictates. Blind spot warning is extra and available on some trims.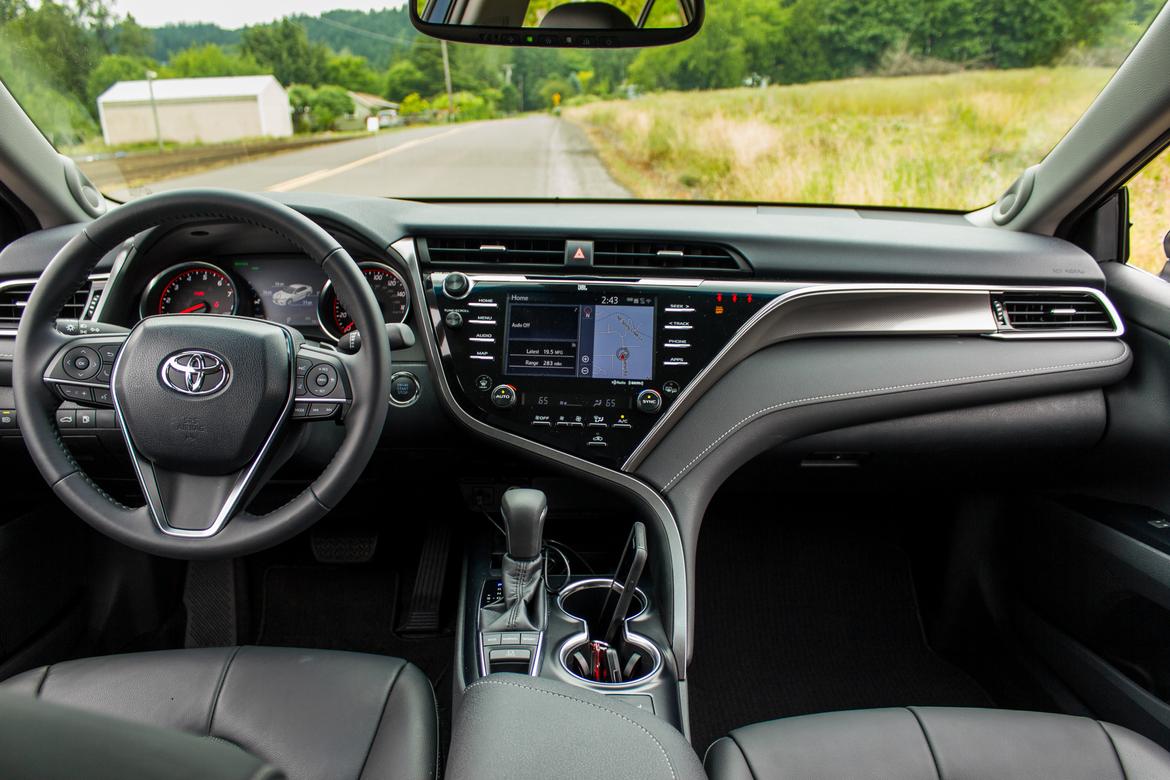 But wait, there's more: The redesigned interior has higher-quality pieces all around and very comfortable redesigned seats. Higher-end Camrys have an interesting collection of features found in other cars but not available all in one place like in the Camry: A 360-degree "bird's eye" camera system for easier parking, found on many Nissans; 4G LTE in-car wireless internet like Chevrolet; and a head-up display like on the Mazda6 are all available in the 2018 Camry. I'll dive deeper into the interior in Cars.com's upcoming full-length review.
It's impossible to say if the Camry could have won a previous Cars.com mid-size sedan Challenge, but I feel comfortable speculating the 2018 is perfectly capable of contending for a podium finish, if not the win. The 2018 Toyota Camry goes on sale in late summer.
Source: https://www.cars.com/articles/2018-toyota-camry-review-first-drive-1420695802736/