Toyota hits homerun with upgraded Sienna for 2017
Blog
Nov 24th, 2016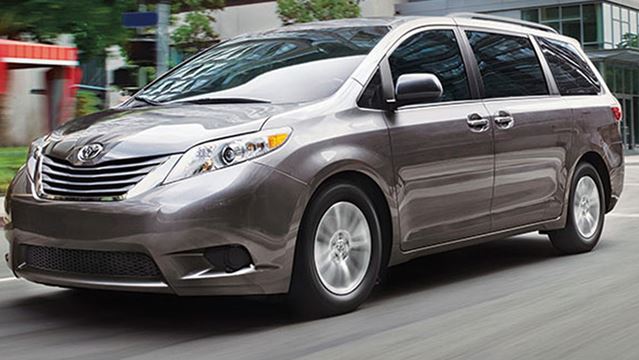 Sienna LE
The 2017 Toyota Sienna features a new engine for 2017 which offers more power and better fuel economy.
When Toyota says its 2017 Sienna van delivers huge helpings of comfort and style, the company isn't just putting words on a press release.
A few hours behind the wheel of this family hauler was enough to show it delivers on both.
Toyota invited automotive journalists to Ojai, CA, recently to try out a number of its 2017 models and figuring prominently in the rotation of vehicles was the Sienna, which includes a new engine and transmission for 2017.
All Siennas get an upgrade to a new 3.5-litre V6 D-4S Direct and Port Injection engine with a direct shift eight-speed automatic transmission.
This combination delivers 296 peak hp, up 30 hp from last year, with better fuel economy.
Fuel consumption on the Siennas without all-wheel drive is rated at 12.5/8.9L/100 km (city/highway). With all-wheel drive, fuel consumption is 13.4/9.6L/100 km (city/highway).
The engine's power was evident on a drive along the Pacific Coast Highway with the Pacific Ocean and hundreds of surfers on one side and mountains and million-dollar homes on the other side.
The van handled the curves like a car and the numerous windows gave you amble opportunity to see all the scenery.
The Sienna's dashboard is laid out particularly well, with everything you need within reach.
Having just driven the Honda Odyssey, I appreciated the one information screen the Sienna offers which was easy to figure out and use.
The GPS system on the Sienna was very useful as it warned my co-driver and myself when traffic was slow ahead.
Getting in and out of the third row seats was also easier in the Sienna than the Odyssey.
The second row slid far enough forward to make getting in and out very easy.
The third-row seats offered plenty of legroom for adults so would be more than adequate for any kids who want to sit far away from their parents.
I didn't get a chance to check out stowing the third-row seats so I can't say if it was as easy as stowing the third-row seats in the Odyssey.
Minivans may be losing drivers to SUVs and CUVs but nothing beats the comfort and room of a well-laid out van to haul around your family and Toyota's Sienna should be on your list for a test drive. It just might convince you to ditch the SUV.
The Sienna is offered in six models, which includes two with all-wheel drive.
The Sienna seven-passenger has a starting price of $33,420 topping out with the XLE AWD seven-passenger has a starting MSRP of $44,130.
Every 2017 Sienna is loaded with safety features including back-up camera, child safety seat anchors and eight airbags.
Source: http://www.brantnews.com/community-story/6976292-toyota-hits-homerun-with-upgraded-sienna-for-2017/