2017 Toyota 86: FR-S survives Scion's demise in new guise
Blog
Apr 22nd, 2016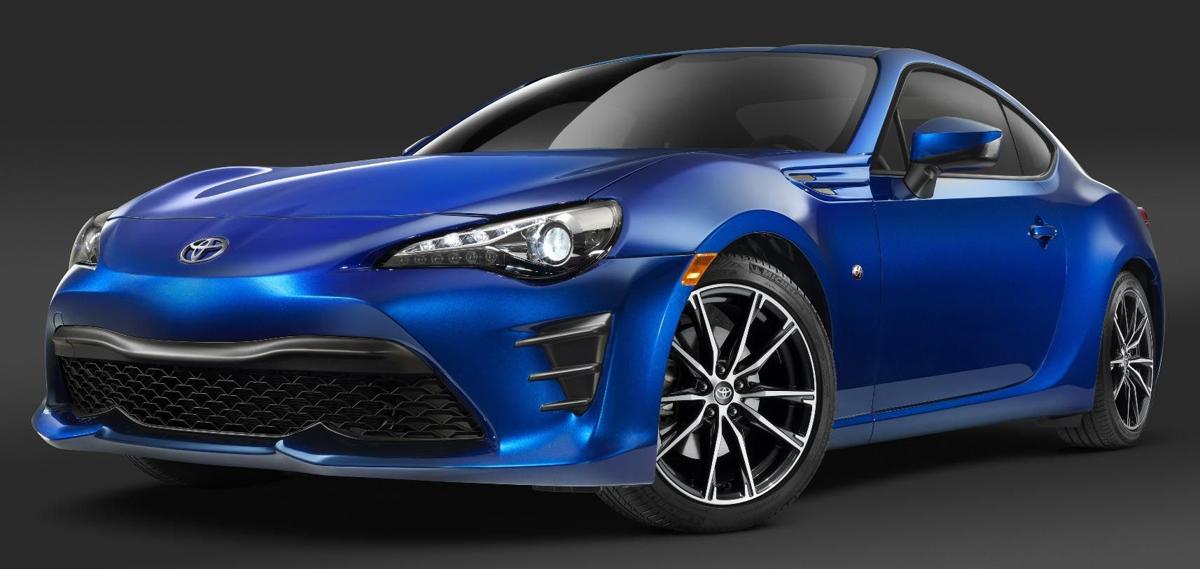 The Scion FR-S has survived a near-death experience and, as a result, can testify the stories are true: there really is a distant light that beckons.
In the case of FR-S, that light is the stylized Toyota "T."
The Scion brand, you've probably heard, has been consigned to the history books after a relatively brief 13-year run as Toyota's "youth" brand.
Apparently that "youth" brand stuff got old. So, at the end of the 2016 model year, the Scion folks will close up shop and nail plywood over the windows. Several Scions, however — including FR-S, and the iM 5-door hatchback — will be rebadged in 2017 and sold as Toyotas. (A small crossover, never retailed by Scion but shown as the Scion C-HR concept at the 2015 L.A. Auto Show, will appear in early 2017 as the 2018 Toyota C-HR.)
To us, the most interesting of the carried-over Scions is FR-S, a sporty coupe also sold as the BRZ by Subaru, which helped in development. While BRZ stays with Subaru, FR-S marries into the Toyota family and becomes the Toyota 86.
The "86" moniker on this sporty ride is a nod to a revered Toyota of the past: the Corolla GT-S of the mid-'80s, a classic known to fans by its official Toyota corporate chassis code of AE86.
Along with a storied name, 86 (nee, FR-S) celebrates its new life with a host of cosmetic changes: a facelifted mug that shows a larger front air intake, LED headlamps and a new bumper; and a rump-tuck that also results in a new bumper and redrawn LED tail lamps.
Inside is an updated instrument panel and a new steering wheel that features integrated audio controls and an "86" logo on its horn pad, a logo also displayed on the front fenders and inside the front headlamp assemblies.
Toyota promises an even livelier drive from a car that's already fun, thanks to revised shock tuning and revamped spring rates in all models. In addition, manual-transmission versions get a gear-ratio change, a torque increase to 156 lb.-ft. (up from 151) and a mild power boost to 205 hp (up from 200).
In 86, Toyota is getting an affordable, fun-to-drive Japanese pony car aimed at buyers with Porsche tastes and used-car budgets. With (we suspect) a starting price in the mid- to upper-20s and a zero-to-60 sprint in the low 6's, this one is likely to be welcomed by Toyota partisans.
Just give FR-S a moment of silence before roaring off in 86.
Look for 86 to hit Toyota showrooms in August; iM in October.
2017 TOYOTA 86
TYPE: Four-passenger 2+2 sport coupe
DRIVE FORMAT: Rear-wheel drive
BASE PRICE: N/A (for reference, as the 2016 Scion FR-S the base price of this car is $26,100)
ENGINE: 2.0-liter horizontally opposed four-cylinder
HORSEPOWER: 205 at 7000 rpm
TORQUE: 156 lb.-ft. at 6400 rpm
RECOMMENDED FUEL: Premium
TRANSMISSIONS: Six-speed manual or six-speed automatic
SUSPENSION: Fully independent; Front: Mac struts; rear: double wishbone
BRAKES: Four-wheel vented disc with ABS, electronic stability control, traction control, brake assist, electronic brake force distribution
EPA MPG: N/A (for reference, as the 2016 Scion FR-S the car is rated22 city/30 hwy/25 combined with the manual transmission, 25/34/28 with the automatic
WHEELBASE: 101.2 inches
LENGTH: 166.7 inches
CURB WEIGHT (approx.) 2,800 lbs
TRUNK: 6.9 cu. ft.
WHERE BUILT: Gunma, Japan
Source: http://www.stltoday.com/business/automotive/toyota-fr-s-survives-scion-s-demise-in-new-guise/article_3d9060e6-93ab-5468-8c83-145024d2685f.html