Can the 2016 Toyota RAV4 Hybrid's Odd AWD System Really Handle Snow?
Blog
Apr 6th, 2016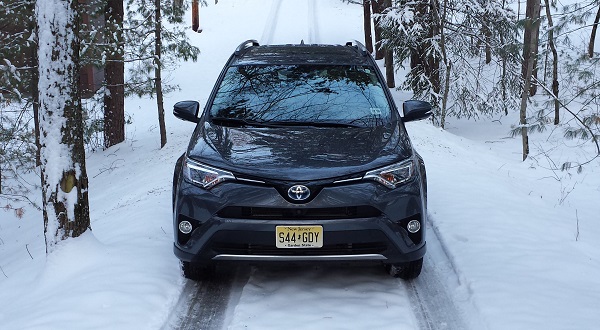 Toyota's RAV4 Hybrid has an unusual all-wheel drive setup. How does it do in harsh New England weather?
During our April testing of the 2016 Toyota RAV4Hybrid about nine inches of snow fell over two days here in our part of the snow belt of New England. It was an ideal scenario to test Toyota's ingenious all-wheel drive system it calls All-Wheel Drive With Intelligence, or simply, AWD-i.
Unlike most crossovers its size, the Toyota RAV4 Hybrid does not connect the front and rear wheels with a drive shaft. Rather, the front wheels are driven by the RAV4's 2.5-liter gasoline engine and constantly variable transmission (CVT). A separate system can drive the rear wheels using the hybrid drive's electric motor when slippage is detected. Although the conventional RAV4's system spanks the competition in third-party testing, we wondered how well the RAV4 Hybrid's different system would work in the real world.
Fantastic is the conclusion. Just as advertised, the rear wheels augment the front wheels when snow and ice mean that front-wheel drive alone is not enough. We tested the RAV4 Hybrid on a variety of snowy and icy surfaces including a steep hilly road that had received about four inches of snow, but had not yet been plowed. On the steepest hill in my area, I found myself able to stop safety half way up. I then did the exact wrong thing. I moved my foot from the brake to the gas pedal and floored it to see the result. The gas engine's CVT wound to its "Power" setting on the "Tach" and the rear wheels were powered as well. The RAV4 slowly started forward then rapidly gained speed. There was no drama, and the vehicle did not step to the side as I expected it might.
Stopping and turning are almost entirely tire related in bad weather and the RAV4 Hybrid's Bridgestone Ecopia H/L 422 tires did a commendable job. The generous ground clearance of the RAV4 Hybrid also meant that entering and exiting driveways that were plowed-in was no problem. Unlike some competitors, the RAV4 does not put expensive fog lights too low on the front fascia where they are susceptible to damage in that situation.
The 2016 RAV4 Hybrid's All-Wheel Drive With Intelligence works exactly as advertised. The on-demand system marries amazing fuel economy with all-road capability. Look for our full review on the 2016 RAV4 Hybrid later this week.
Source:http://www.torquenews.com/1083/can-2016-toyota-rav4-hybrid-s-odd-awd-system-really-handle-snow#sthash.9hTjtSl2.dpuf